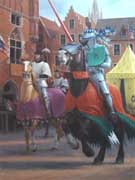 Click image to enlarge
Finished!
My apologies for not getting the final week of this Painting Diary up on the web-site at the weekend - the painting wasn't quite finished on Friday and just needed an additional (long!) day on Monday to apply the last touches.
There isn't really much more I can say about the painting, so will let the pictures do the talking. There was a surprisingly large amount to do in the final week, especially in areas like the horse's cloth-of-gold caparison, but it was very satisfying adding those final details and seeing the painting really come alive - especially after all the time that has gone into it.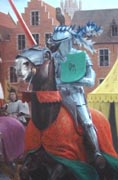 Click image to enlarge
As I said last week, we will be publishing this as a print later this year, after I have had time to double check all the details and make sure I am completely happy with the end result. As usual, we will send information about the prints to everyone on our mailing list - if you are not sure that you are included on this, just send me an email at info@studio88.co.uk and we'll make sure you are kept up to date.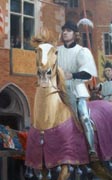 Click image to enlarge
Of course the original will also need a home in due course - I will add it to the web-site soon, but if you think you might possibly be interested, let me know and I'll send you the details.
I hope you have enjoyed following this Painting Diary and it has given another insight into my work. If you have any comments, do let me know - at least then I'll know someone was watching!
Graham Turner