MICHAEL TURNER




GRAND PRIX




CHRISTMAS CARDS

Celebrating a unique pictorial record of over half a century of Motor Racing

Michael Turner published his first set of Studio 88 motor sport Christmas cards back in 1963, and has produced a new set every year since, capturing the highlights of that year's season and creating a unique pictorial record of over half a century of motor racing with almost three hundred paintings, recording the spectacle, the drama and excitement of the sport that has inspired him through so many different eras.Michael was tempted to end this amazing run with the 50th set of cards in 2012, but decided he wasn't quite ready to finish something that has been part of his life for so long. However, we have now reached the point where several factors, including his own busy schedule, mean that he has regretfully decided that the time to finish is now upon us, so we are sorry to announce that the 2016 set of cards will have been the last, and there will not be a new set of cards for 2017.The cards have been collected for Michael's art as much as for use as cards, and are prized by collectors of these significant works - some of whom have been returning to buy the latest set annually since the very earliest years.We're celebrating this amazing collection of motor racing art by showing all of the paintings here on the Studio 88 website. Some of the cards are still available, including not just those from more recent years but also some of the earlier examples - CLICK HERE to see images and details of all the cards, including ordering information for those we have available. Larger prints of some of these paintings are also available.CLICK HERE TO SEE ALL THE CARDS
Michael Turner has travelled the globe to follow and paint the sport he loves since the 1950s. This passion and first-hand experience sets his work apart; the drama and excitement of racing cars driven on the limit, the atmosphere, the settings, all captured in his evocative paintings.

*NEW 2017 F1 PAINTING*


NOW AVAILABLEAlthough he has decided to discontinue the annual set of cards, Michael was keen to create at least one painting to mark the 2017 Formula 1 season, and the result is this typically exciting image of the British Grand Prix at Silverstone. This new painting is now available as a high quality artist signed giclée print, in a choice of sizes - CLICK HERE FOR FULL DETAILS
GRAHAM TURNER EXHIBITION TO RETURN TO STOW MARIES IN 2018

In July 2017 Graham Turner exhibited his First World War Art at Stow Maries Great War Aerodrome, as part of their 'Stow Maries at War' event. He is delighted to have been invited to return in 2018, and looks forward to showing his work once again at this lovely event over the weekend of July 21st/22nd 2018.More details in due course...
| | |
| --- | --- |
| | (Above) Graham Turner with his painting 'Replacements' next to the WW1 Aviation Heritage Trust's BE2e at Stow Maries.(Left) Graham Turner's display of pictures at Stow Maries in 2017.(Below) Cropped detail from 'Into the Hands of Fate' by Graham TurnerCLICK HERE for details of Graham Turner's Aviation Art. |
THE BATTLE OF AGINCOURT
- Painting now at the Royal Armouries
Graham Turner's original painting of Henry V at the Battle of Agincourt is now part of the Royal Armouries collection and on display at the Royal Armouries Museum in Leeds.

The large oil on canvas was painted to mark the 600th Anniversary of Agincourt, a battle that pitted Henry V's small and exhausted army against the massed ranks of the French nobility, made icons of Henry V and the English longbowman, and became part of English national identity.Henry V is in the thick of the fighting, surrounded by his bodyguard and with his banners flying above him, as they desperately fight off the French knights and men at arms who have struggled through the mud and barrage of English arrows to reach their antagonists.
For more information about this painting, and to see large detail images and description of what is shown CLICK HERE

PAINTING DIARY

Graham Turner guides you through the creation of his epic oil painting of the Battle of Agincourt - 'the most involving, complex and time consuming project I have ever undertaken' - with a series of stage by stage photos and commentary in his latest Painting Diary - CLICK HERE to view.
PRINTS

High quality prints reproduced from Graham Turner's painting of the Battle of Agincourt are available.CLICK HERE FOR FULL DETAILSA special canvas edition is also available, with each reproduction individually printed on very high quality canvas and stretched on wooden stretcher bars by the artist himself, ensuring a picture as close to the original as possible. Two sizes are available, the largest being almost the same size as the original oil painting - a fabulous centrepiece for any room.
BATTLE OF THE SOMME CENTENERY 1916-2016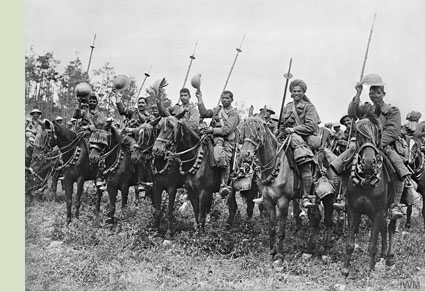 THE CHARGE AT HIGH WOOD

In July 2016 Graham Turner took part in a two-day commemorative ride on the Somme battlefield, in full cavalry kit, retracing the steps of the only cavalry action to take place during the battle, the charge at High Wood, 14th July 1916.CLICK HERE to read an article Graham has written for 'Battlefield', the magazine on the Battlefields Trust, about the charge and recounting his own experiences a century later.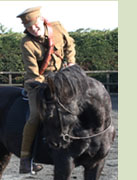 'The Great War holds a terrible fascination for me, and my own personal love of horses inevitably makes their involvement in this horrific conflict particularly poignant. I am honoured to be taking part in this commemorative ride, and as we visit the various locations and cemeteries on our route we will remember those whose lives were lost, both human and equine.(Photo top right) - Soldiers from the 20th Deccan Horse just before the charge at High Wood. (c) IWM (Q823)
NATIONAL CIVIL WAR CENTRE PURCHASES COLLECTION OF GRAHAM TURNER PAINTINGS

Following the success of Graham Turner's exhibition at the National Civil War Centre in Newark, the Centre have purchased the entire collection of 26 works that were on display.In their Facebook post the Civil War Centre said 'Graham is the UK's top illustrator of this period and visitors can look forward to seeing a selection rotated around the galleries and in the Wolfson Research Room, which opens next month. "The paintings are a great asset - very accessible and also historically accurate," enthused head curator Glyn Hughes. "They also cover all phases of the British Civil Wars - that's important because the conflict spread across three kingdoms and we want to tell the complete story."'CLICK HERE FOR DETAILS of a large selection of prints reproduced from Graham's paintings of the English Civil War.
Graham Turner on Facebook

"I have finally got round to creating a page on Facebook to showcase my work. I will use it to show examples of my art - both historical and motorsport - new paintings and prints, work in progress and forthcoming exhibitions. I hope this will give you further insight into what goes into the creation of my work, and keep you updated about what's currently on my easel" - Graham Turner.CLICK HERE to take a look at Graham's Facebook page and 'Like' it to receive news and updates about his work. Recently unveiled on his Facebook page is Graham Turner's latest jousting canvas. This is now available as a print - CLICK HERE FOR DETAILS
Studio 88 Ltd., PO Box 568, Aylesbury, Bucks. HP17 8ZX - email: info@studio88.co.uk - phone: 01296 338504
Follow Graham Turner on Facebook -