Finished at last! After another week of work, I can now reveal the end result of my endeavours - the completed painting. However, before I sign off this painting diary, there is one topic I have neglected to mention over the past weeks - the Inn signs.
You may have noticed on the initial sketch that I showed a cut out shoe, indicating a cordwainer's shop. However, pictorial evidence backing up this idea was not forthcoming and I was worried that the sign might end up not looking particularly medieval - more like a Graham Turner cartoon shoe! I had done some research into shop signs when I painted the 'Battle of St. Albans', but not wanting to use the same signs again narrowed the choice somewhat.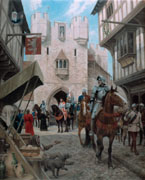 Click image to enlarge
Inn signs are a little easier to find in contemporary illustrations, most appearing to be painted square boards. When I was going through a selection of Inn names recorded in accounts of the period, I was initially drawn to 'The Sun' - because this alludes to Edward IV's badge of the 'Sun in Splendour'. However, 'The Bear' really attracted my attention - 'The Bear and Ragged Staff' being the badge of the Earl of Warwick, 'The Kingmaker', who would die fighting Edward's army at Barnet three days later. As I painted the sign, it also seemed appropriate that it should be rather shabby and in need of a re-paint - perhaps a new name for the Inn would be deemed wise after the events of the coming weeks. All these thoughts stemmed from a recollection of a story concerning the Inn Richard III stayed at before the battle of Bosworth. Called 'The White Boar' (which was Richard's badge) the Inn was renamed 'The Blue Boar' after his defeat by Henry Tudor.
On the right hand side of the street is an ale stake - indicating a fresh brew of ale (good timing, with a thirsty army arriving in the city). There are many references to branches and even whole bushes being hung over the street for this purpose. A number of illustrations depict what look like brooms stuck out of windows but I came across a 15th century picture showing an Inn with what is unmistakably a (rather sparse) wreath hung over the end of a pole. This is what I have chosen to show.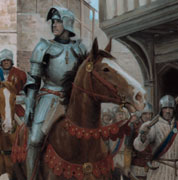 Click image to enlarge
The other two images in this week's update give close ups of the store and foreground horseman. I hope they give a better indication of some of the details I have included in the painting - despite the limitations of computer monitor resolution.
This painting has now been reproduced as a Limited Edition Print entitled 'The Arrivall' (after the chronicle of Edward IV's reclamation of the throne in 1471 - written soon after the battles of Barnet and Tewkesbury) - see the main Studio 88 website for details.
I hope you have enjoyed following my progress through this diary and that it has provided some insight into the stages my paintings go through before you normally get to see them. I will be very pleased to hear any comments you might have, so please email me through Studio 88 so that I know whether or not to follow this with similar features in the future - info@studio88.co.uk