Alex Henshaw was a remarkable man in many ways, but his reputation as an outstanding pilot and record breaker has established his place amongst the greats in aviation history. He set a record speed when winning the prestigious King's Cup in 1938 which still stands, and most notably set a solo record flying from London to Cape Town and back in his famous Mew Gull G-AEXF which remains unbroken over seventy years later, an outstanding example of human resolve, determination and physical endurance. At the outbreak of war in 1940, he joined Vickers-Armstrongs at Castle Bromwich as Chief Production Test Pilot, and is reputed to have personally test flown more than 10 per cent of all Spitfire and Seafire aircraft manufactured during the war years. From the end of the war until 1948, Alex Henshaw worked for the Miles Aircraft Company in South Africa, where he survived more adventures over the vast continent before returning home to devote himself to family business interests.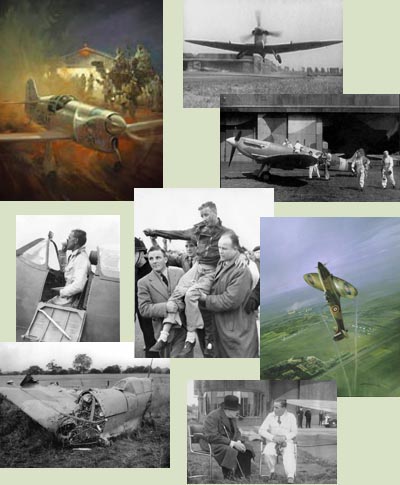 He met aviation and motoring artist Michael Turner in 1979 when Michael was commissioned to produce a painting for the cover of his book 'Flight of the Mew Gull'. Impressed by the work he started commissioning further paintings, each depicting a facet of Henshaw's remarkable flying career. As the years went by their friendship grew along with the collection, which progressively lined the walls of Alex's home in Newmarket. The paintings, produced over a period of the next twenty five years, had to portray events and emotions that only Alex had experienced, and consequently were all subject to lengthy discussion to ensure an accurate and evocative result. A man with exactingly high standards, his ultimate approval was a recognition that he was satisfied not only with the painting, but its status as an accurate interpretation of the often hazardous and life threatening situations he encountered.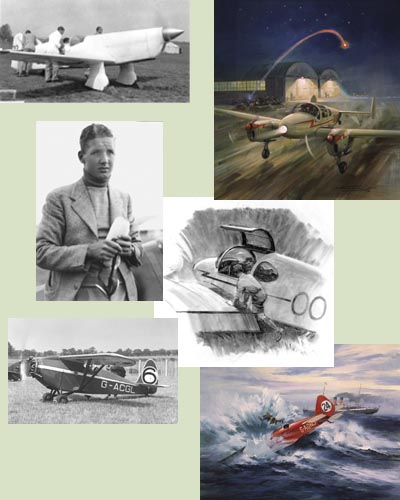 In 2005, Alex realised that he had by then accumulated what he considered a unique collection of paintings, in that they related specifically to one person's life, and suggested that they should be published. After discussing various options at some length, Alex and Michael decided to produce a book, using the paintings as a focal point around which Alex would write a narrative in his own inimitable and exciting style. In addition to the paintings, photographs from his personal albums would be used to further embellish the contents.
At the beginning of 2007, Alex still had two chapters to write, and Michael a painting to produce, plus a few drawings to fill some gaps where no appropriate photographs existed. Tragically and unexpectedly on February 24th, Alex's heart, which had withstood so many shocks during his ninety four years, gave up, and this sudden turn of events threw everything into confusion. However, with the support of Alex's son, Michael was determined to carry the book project through to a conclusion, both as a tribute to Alex and to keep faith with their long and treasured friendship. It should be noted that Alex Henshaw's outstanding success and reputation in aviation was achieved in a mere sixteen action-packed years and, whilst the book was originally conceived around the paintings, the expansion of the text and inclusion of over three hundred photos provides an intimate flavour of the succession of astonishing events which peppered Alex Henshaw's extraordinary flying career.